BY: ELIJAH BASSETT
When you think of green spaces, a skyscraper might not be the first thing you think of.  But in China, the two are becoming one with the Nanjing Towers, which are based on the concept of "vertical forests."  The idea was first explored in Milan by Italian architect Stefano Boeri, and Boeri's architecture firm is also behind the vertical forest in Nanjing, which should be finished in 2018.
They predict that the towers will absorb 25 tons of CO2 yearly (over twelve cubic kilometres), and produce 132 pounds of oxygen per day.  To put that in perspective, 132 pounds of oxygen comes to about 1,600 cubic feet of oxygen, and the average person consumes around 19 cubic feet of oxygen per day.  That means that these towers will provide enough oxygen for about 84 people per day, and clean the air for many more.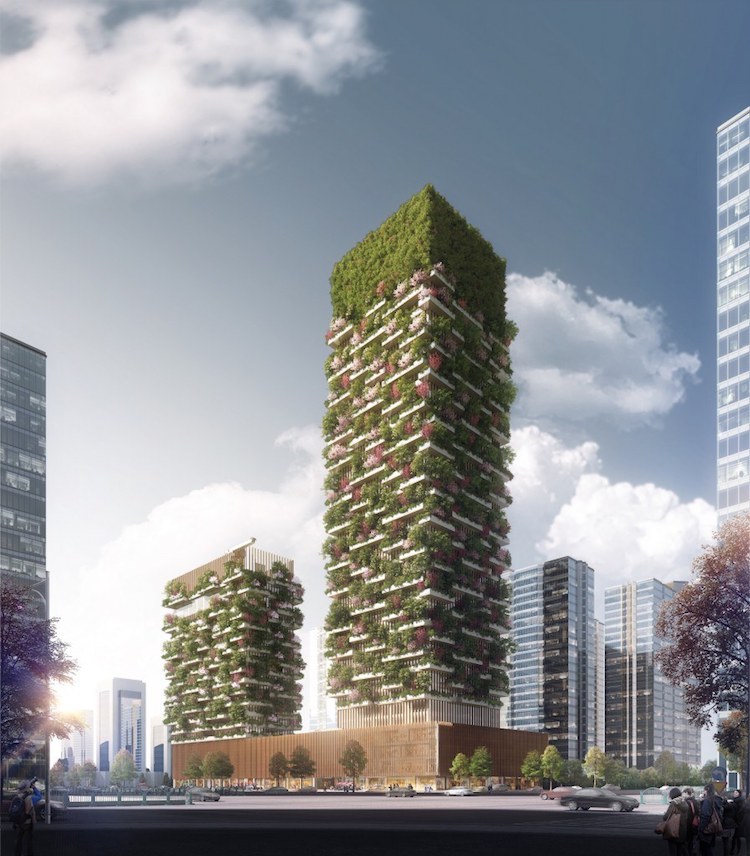 But these buildings aren't just forests.  The shorter one will have a hotel with a rooftop pool, and the taller one will have a museum, a green architecture school, a rooftop club, and offices.  There will also be restaurants, stores, and a conference hall in a podium building connecting the two.  Boeri has also said of a similar project in Italy that these buildings can reduce urban sprawl, so the Nanjing Towers should also contribute to what he calls "urban densification."
The firm is also planning to make one in Lausanne, Switzerland, and we can only hope this trend finds its way to us soon too.