BY: JESSICA BEUKER 
All photos from Getaway
Most of us city-dwellers have, at on point or another, pondered the idea of going off-grid, escaping the daily grind and taking a break from the noise pollution that litters our lives each and every day. Of course, this is usually never more than a day dream, spurred by the dull clicking that echoes from your keyboard or your boss's monotone voice during the mid-day meeting.
The monotony of our everyday lives is enough to render us permanently exhausted, not because we live  particularly hard lives, but because we live the same life, everyday, as if trapped in our own version of a Bill Murray comedy.
Getaway, a New York based start-up that promotes tiny living by building and renting small cabins in the woods, is aiming to provide city-dwellers with that much needed escape. And to help them achieve this goal, the company has recently secured a whopping $15 million in funding.
According to Inhabitat, Getaway first emerged in 2015 with three 160-square-foot cabins, which it wheeled into undisclosed locations across New England, although the company strives to place the cabins within a two-hour drive of a major city.
The cabins, which start at $99 a night, are roughly the same price as a hotel, even a bit cheaper. They also provide guests with fresh linens, shower products, kitchenware, coffee, tea, and a variety of pay-as-you-eat snacks. Unlike staying at a hotel however, there is no Wi-Fi available (and there's even a lockbox for your cellphone so you're not tempted by it). Instead, guests can expect a quiet, serene atmosphere surrounded by lush green forests rather than the concrete jungle.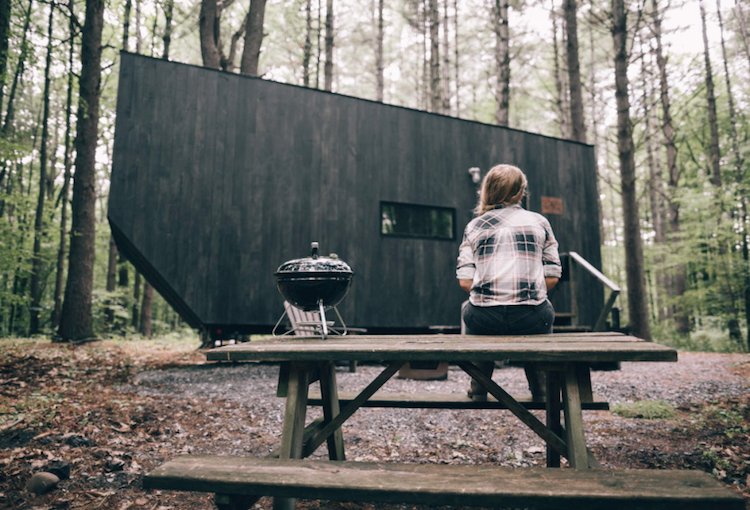 That start-up brands itself as an escape from technology and the work grind, but also acts as a way to try out the tiny living lifestyle before you put a ring on it.
Right now the cabins are only available around New York and Boston, but the company is hoping to expand, and with this new funding will likely be able to do so.
According to CNBC, founder and CEO Jon Staff explained that the company's focus is on simplicity, which allows for lower costs and distinguishes them from hotels or vacation rental sites like Airbnb. "Since vacations sometimes create more stress than they alleviate, "we think of ourselves more like a spa, or yoga, or binge-watching Netflix, those other things that allow you to quickly and affordably disconnect.""