BY: CAROLINE ROLF
Is it the trippiest hike of your life or a 3D scanning system that will revolutionize the forestry industry by protecting the planet?
Pioneered by Irish company, Treemetrics, and the European Space Agency, this unique platform harnesses Google Earth to bring forestry into the digital age using cloud computing. The project will use laser technology to scan forests and provide an accurate number of how many trees lie ahead of the foresters and how many need to be cut down. It will also assist in determining the quality of the wood before making a price for buyers. This step taken before any sawing starts could combat careless deforestation.
The creators and former foresters, Enda Keane and Garret Mullooly, aim to save time, money and make the forestry industry cleaner by only cutting down the trees necessary for fuel and construction. This technology will improve traditional forestry, which involves manual tape measurements and relying on eyesight when looking up to estimate tree height.
Self starter Keane says, "It's achievable to cut down less trees than we cut down today, while still meeting up to the needs of planet Earth's increasing demand for wood. We need to have more knowledge about forests, and the type of trees in them, before we can cut."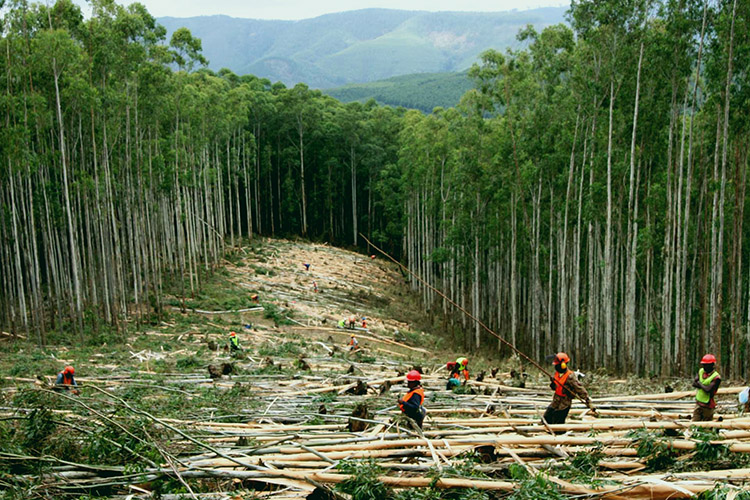 Until now, foresters could clear out whole areas without knowing what wood will be used. On average, 20% of a commercial forest's value is lost to inaccurate measurement and therefore wasteful cutting. Mullooly explains that, "Wood is the lungs of the forest. Made of carbon itself, wood also traps carbon dioxide," and notes further that foresters have been cutting down too many trees, which is affecting the carbon footprint and destroying the habitat of many mammals.
Installed in the cab of a harvesting machine, the display gives real-time detailed mapping information showing the operator which trees should be felled.
This remote forest software is modernizing manufacturing practices of an aged industry. Treemetrics promises to deliver more wood from fewer trees. From the mapping and planning to the cutting and collecting, this innovative company is changing commercial forestry for good.
Image sourcing: forestryscotland.com,  timrite.co.za,  gislounge.com