BY: TED BARNABY
Welcome to Slab City, widely known as "the last free place in America."
The entrance is marked by a small hill caked with eccentric acrylic paint, promising love and preaching faith, all in bright pink letters. This is known as Salvation Mountain. Meth has long been a choice drug in these parts.
Slab city is completely uncontrolled and isolated from government concern. All parking is free and unregulated. Yet—despite the drugs, freedom, isolation and heavy south-California sun—the residents reject seniority and avoid shrewdness, remaining polite and open-armed to new comers. Hippies, free-spirits, druggies, eccentrics and adventurers—people have been living for free in Slab City since the late '40s.
Slab City residents frequently pull their income from government cheques (SSI, Social Security, and Social Security Disability). Others come with retirement money, or just enjoy the seclusion. Most Slab City residents are temporary, thousands migrating to the community for the winter months. But in the summer months, the population of Slab City drops to about 150. Perhaps this is due to the fact that in the summer, the temperatures can get as high as 120°F (48°C). But no matter where they came from, or how long they stay, the residents typically all have one thing in common: a love for beer.
Most residents occupy an R.V. or trailer on the property, with sinks that overflow with beer cans and propane-powered fridges. Unfortunately, the lack of regulation also means that Slab City is without running water, electricity, washrooms or a garbage program. When supplies are needed, "Slabbers" jump in their dusty pickups and head four miles (6km) southwest, to Niland, California, where they can purchase propane, beer, groceries, guitar strings or otherwise. It's a very musical community, and on almost any given night, you can grab some drinks and walk to the public stage to watch a handful of talented Slabbers play.

Slab City is also home to a number of hot springs, with temperatures ranging between 43°C (110°F) and 46°C (115°F). Though the water admittedly looks like a muddy cesspool, "hobo-baths" are a right of passage in the Slab City community.
The name Slab City was derived from the concrete slabs that lay across the desert—remains from an abandoned World War II site. It's amazing to think that an old war site has become one of the most peace-loving and free communities in the U.S. Not just any kind of person could make due with a society devoid of electricity, running water and proper washrooms, but for the Slabbers, these conveniences are a small price to pay for your freedom.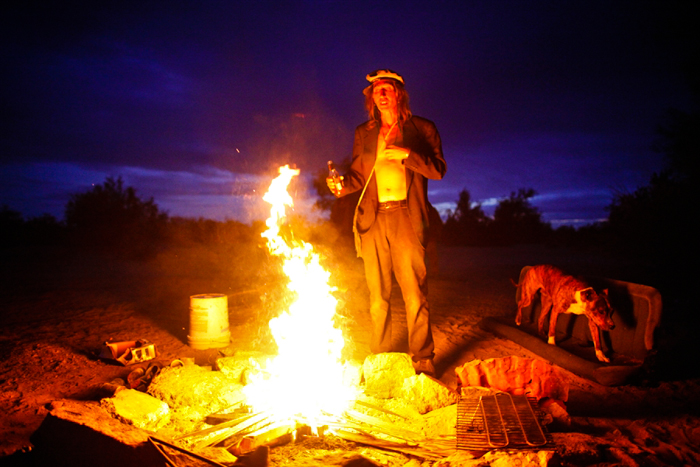 Sources: unusuallife.com,  wikispaces.com,  msn.com,  npr.org,  nbcnews.com,  staticflickr.com,  wordpress.com