BY: SYDNEY MCINNIS
If you're planning to get tattooed by Curt Montgomery, you can expect to walk into the shop and find him chewing gum, while designing a tattoo of a girl squirting and getting choked at the same time. Expect to book your appointment through Instagram Direct message. Expect to have the cleanest line work on your body that you ever could have imagined. Montgomery doesn't do conventional; he does fun, pornographic and radical.
Montgomery tattoos at Lower East Side Studios in Scarborough and Abstract Arts Tattoo & Piercing in Toronto's Queen West district. It took him a while to become what he is today – an Instagram celebrity flourishing in Canada's largest city.
Montgomery spent a lot of time working in bars for fast money, studying shit in school that he didn't care about and doing random commission work. Meanwhile, his goal was to become a good enough illustrator to tattoo for a living, but he had trouble finding his focus within the constant energy of the city.
Born in Elora, Ont., Montgomery's identity is rooted in the Canadian countryside. When he discovered his passion for illustration after trying to take classes in Recreation and Leisure in London, Ont., he decided to retreat somewhere that would give him an opportunity to focus on his art with absolutely no distractions – the middle of nowhere.
At 23-years-old, he moved into a solitary farmhouse in Bruce County, a peaceful area in South-western Ontario, with a wood stove and a pathway leading to the house, which took almost eight hours to shovel in the winter. He stayed in isolation for almost three years – using his interruption-free time as an instrument to drive his imagination. "Isolation is amazing for focus," says Montgomery. He worked at a bar, practiced drawing and enjoyed the snow when it came.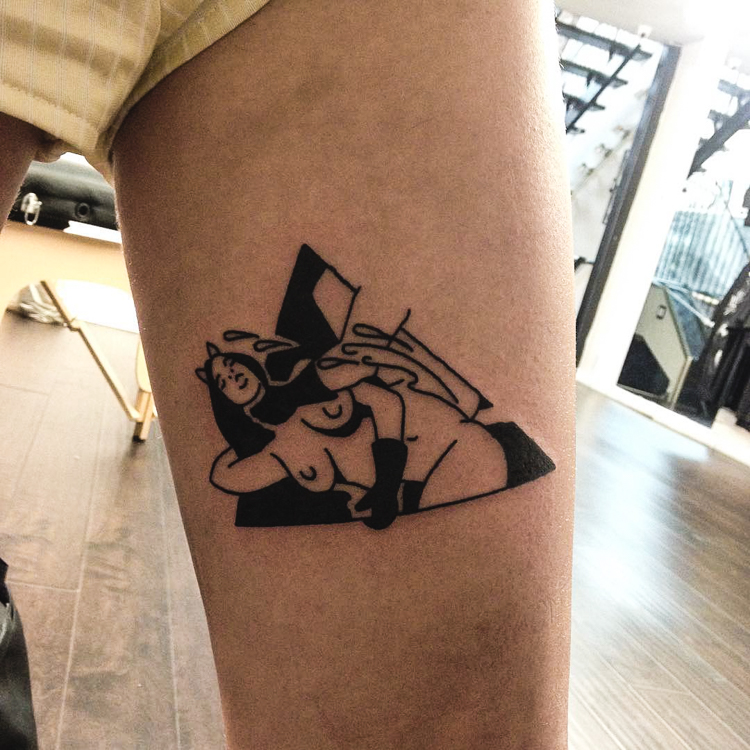 Montgomery moved to Toronto for a couple of years to try and make a living, but didn't have enough of a skillset yet to pursue his artistic dreams. At this point, he decided to move back to Bruce County, into a withdrawn cabin.
This time he worked at a flourmill in Bruce County and followed a concrete timetable of when he would draw and sleep. Which is all he did: work, draw, and sleep. Developing a unique style and the necessary ingenuities to be killer in the tattoo world was his strategy.
"My day would start with getting up at 2 a.m., draw 'til 4:30 a.m., walk to the mill, 6 a.m.- 3 p.m. work there, come home, nap for a bit, have some pizza pops and then up again from 5-10 p.m. drawing." Montgomery laughs, "Honestly, the song Eye of the Tiger sums it up. It's easy to get distracted and fall off of the path that will lead you to success. You have to be working hard all the time."
Montgomery did a year of art school at Max The Mutt, a career college in downtown Toronto to perfect his illustration, but was not growing as an artist by their methods, so he had to find ways to do that himself.
Eventually after time spent on Kijiji watching for opportunities, Montgomery wound up with an apprenticeship and then shortly after started his tattoo career at Lower East Side, even though he had very little tattoo experience. Montgomery's signature style is what has made him a hot commodity. He describes his style as clean line work with erotic content – but that's being modest. Now that he's found his style, he'll likely never change it.
"If somebody comes in and gives me a drawing, I usually convert it to my style. If they don't dig it, go find someone else and suck a dick," Montgomery says. "I believe that tattooing is too serious. I'm serious when talking about cleanliness and the actual important parts, but I love to do different kinds of tattoos, cats petting each other – porn stuff. That to me, that's fun."
No, Montgomery is not a pedophilic weirdo. He has appreciation for the beauty of a woman's body and likes drawing them because it's fun and bizarre. The guy describes himself as a "dickhead" – he really doesn't take himself too seriously. 
Montgomery posts on Instagram multiple times a day, revealing tattoos he's drawn that are up for grabs and pieces that he's inked onto skin. Although he isn't the first person to do ridiculous porn tattoos, he may be one of the first to make them look so beautiful, and the Instagram community has certainly noticed.
His Instagram account has 28.3k followers and most of his customers know him from this booming social media app. "No one's going to go into a studio and look through someone's portfolio, you just go on Instagram," Montgomery says. "I talk it up like it's God's fucking gift to a tattoo artist, but it probably is. Social media is all that this business is now."
Even though he's working late nights and early mornings, eating 7-Eleven food, tattooing in a dingy basement in the East end and a grey back room in the West end, he generates a lot of hype on each of his Instagram photos and is booked for appointments everyday. He's doing something right, and his adorably jovial personality and seasoned conversation skills only add to the experience.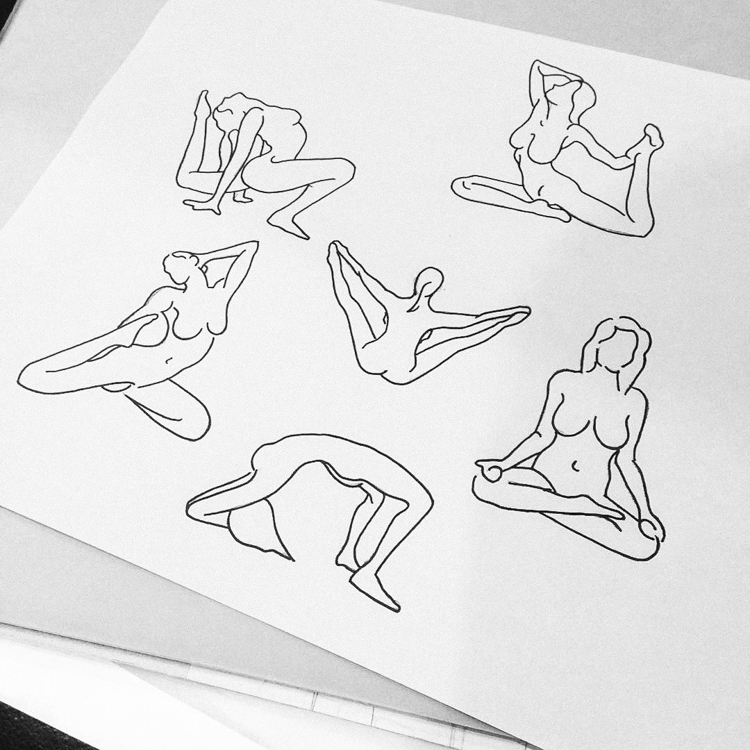 "Honestly. You get what you put in. If you really want to do what you want to do, then you have to do it hard to create a buzz. Posting on Instagram four times a day even if you don't have any appointments that day – you have to keep your relevancy up," he says passionately.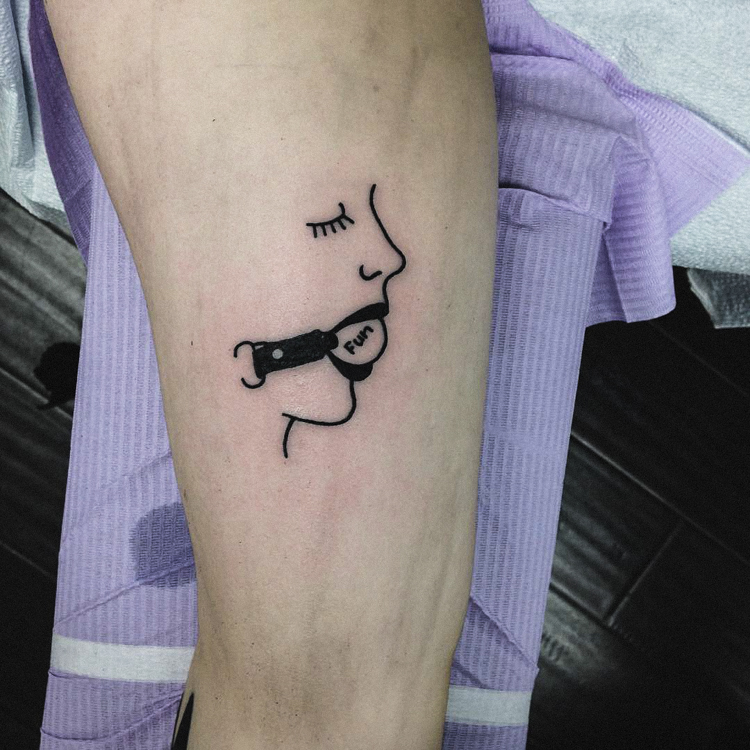 Montgomery doesn't intend to become complacent. He isn't going to stray from his style, but it will certainly keep evolving. Even when he's tattooing an image of an ass – that ass will have the cleanest lines you've ever seen, and with time, they'll just keep getting better.