BY: SINEAD MULHERN
It's 2014 and the Bank of Canada has yet to print a Canadian woman's face on any of our country's bank notes.
In 2011, the Bank of Canada put The Famous Five and activist Therese Casgrain on the $50 bill, but the image was quickly swapped out for an Icebreaker instead. Currently, Queen Elizabeth II is the only female face to grace Canadian coins.
That's why Merna Forster, a Canadian historian and author, is prompting Canadians to make a change. The Victoria, B.C. historian is the creator of Heroines.ca – a website devoted to recognizing prominent women in Canadian history. Last year she started a petition to get the Bank of Canada to recognize women's efforts in shaping our country by featuring them on our paper money. The campaign is backed by 48,000 people so far including, unsurprisingly, Margaret Atwood.
"I believe there are some amazing women in Canadian history that most Canadians know nothing about," writes Forster on Heroines.ca. She started the site and wrote her book 100 Canadian Heroines: Famous and Forgotten Faces to highlight women's contributions which she feels have been under recognized. She wants both the site and the book to serve as a guide to encourage Canadians to delve deeper into learning about women's history in this country.
And the people she chooses to feature have accomplished a lot to say the least. Female pilots, teachers, activists, authors, politicians, scientists, researchers, police officers, medical workers, filmmakers, Inuit artists, athletes, native rights activists, musicians, actresses, astronauts and plenty of others warrant biographies by Forster.
There's Harriet Brooks, the first female nuclear physicist in Canada. There's Marguerite Bourgeoys, the first Canadian woman to be sainted; famous conductor of the Underground Railroad, Harriet Tubman; and Mona Parsons who fled a Nazi prison camp. There's Agnes Macphail, Canada's first female Member of Parliament. There's also the country's first female university professor, Carrie Derick and famous painter Emily Carr. There's Rose Fortune, North America's first woman police officer; Leonora Howard King, the first Canadian doctor in China; and heart specialist Maud Abbott. That's just to pick out a few.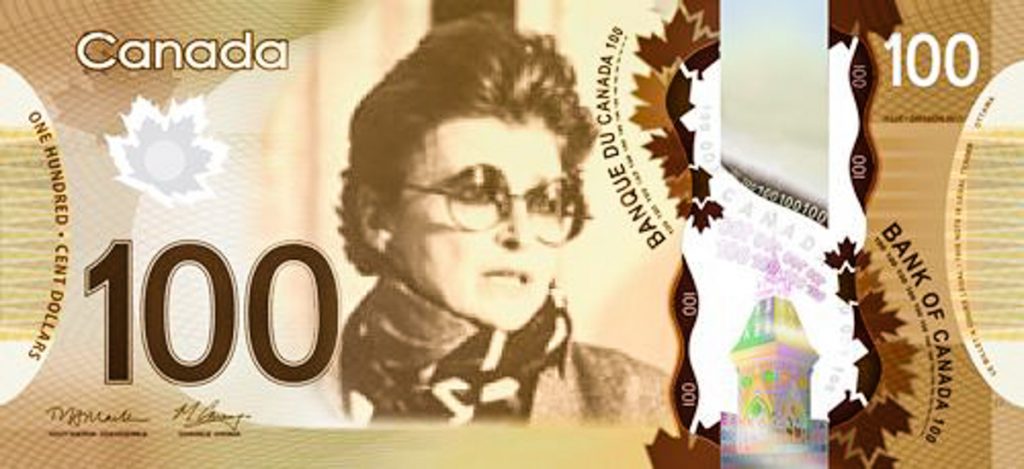 So many proud moments in Canada's history have been brought by these women, yet none of these have been chosen to be one of the faces on our currency.
Stephen Poloz, the Bank of Canada Governor has said he's open to the idea of including women on our bills says a recent Huffington Post Canada article. Then last month, during an announcement about the new process of designing our currency, he neglected to address the lack of female presence on our notes.
October was also Women's History Month.
"How many more surveys and public consultations will it take to convince the Bank of Canada to commit to including women on bank notes?" she said in an interview with CBC in October. "This is not rocket science."
Let's keep in mind major bill blunders that have come up recently. Mount Edith Cavell supposedly pictured on our $10 note was actually found to be Mount Zengel instead. In 2012, the Bank of Canada was found to have altered a woman's Asian features on a prototype of a $100 bill (note the word prototype. Sir Robert L. Borden is on the bill.) Why? To ensure "ethnic neutrality".
Because "ethnic neutrality" is a thing we say in Canada in 2014? Because everyone else printed on our paper money has been "ethnically neutral?"
We live in a society that places a great deal of emphasis on the monetary value both of individuals and our country as a whole. It's time to keep having the conversation of which stories we choose to represent on Canadian currency and why.
So who is going to get Canadian women on our currency? Our money is on Forster.