BY: SINEAD MULHERN
Ask an artist when they are at their most creative. No matter the city or country or discipline they work in, most would say they are at their best when relaxed, mentally clear and in an environment conducive to work. A lot of creative sorts would describe an ideal work setting that would sound very similar to a vacation hot spot. So instead of travelling to get away from your job, why not travel as means to become more fulfilled from your work?
Instituto Sacatar: Itaparica, Brazil
Instituto Sacatar is an artist residency on the island of Itaparica near the Brazilian city of Salvador. It lies in Baia de Todos os Santos (The Bay of Saints) among 55 other islands. Of those, Itaparica is the largest. Artists from all different walks of life apply for short-term fellowships to gain a spot in the small colony where they can use the Brazilian backdrop as inspiration to relax, and let the creative juices flow.
Author of Wild, Cheryl Strayed, went to Instituto Sacatar to complete her novel Torch, finishing it just one day before she left.
Media artist Mitch Loch and architect Taylor Van Horne founded Instituto Sacatar. Originally, they wanted their artists hub to be located in California, but these types of residencies were already catching on there. In South America, it was a different story. They took their idea to the island off of a busy city to get a calmer vibe than what urban life could offer.
Artists who get to go to the island enjoy the 900 square metre oceanfront property (that is described as a rather "primitive" location) with coconut groves facing the ocean. Five artists get to experience the bohemian artist colony with each round of fellowships. Between 10 and 20 fellowships are offered each year. Most last for eight weeks.
An artist who gets that lucky acceptance letter gets round-trip flights included. When they arrive, they get their own studio and private bedroom. Nearly all of the meals are provided. In addition to that, the artists live with household dogs, peacocks and even a tortoise. Since it's open concept, oftentimes curious animals find their way through. Imagine writing a script or draft or your memoir to have the occasional bird flutter in for a visit.
Not all artists work the same. Because of that, studios are designed with different disciplines in mind. For example, a studio with a painter in mind has an indoor garden, is open and airy, with natural light flooding in from all directions. A writer's studio is raised up with panoramic views of the ocean. There's a darkroom for photographers, theatres for actors and musicians, and down by the coconuts is a woodworking shop for the carpenter or furniture designer.
How does it all work?
The program says its motivation is to enhance culture in Salvador and Brazil because artists can come from all over, contribute to the art culture, and network—and even collaborate—with local artists. This location is part of Res Artis, a larger organization that coordinates residency programs like this all over the world. It started in 1993 and so far, Res Artis has nearly 500 locations in over 70 countries. It's an independent network supported by a financial contributions, volunteers, government grants, national or state cultural institutions, and other grant programs.
Their mission is to "promote the role of residential art programs as a vital part of the contemporary arts world, stimulating the creative development and mobility of artists, and furthering intercultural understanding."
To be able to take your work here, you must present your idea in an application process. When it's finished, the institution asks that you credit them in the completed work—whether that means including their logo in the opening pages of a book or during the credits of a film depends on the project completed.
Sigitas Staniunas is one of the many artists who completed a residency.
Why the world needs artist residencies like this
A getaway to this island in Brazil is an antidote for tough cases of writer's block for the poet or lyricist. And for the painter who can't get inspired, the kilometres of stunning beaches and playful animals are sure to get the brain thinking. Sometimes a setting just isn't conducive to certain fields of work and many artsy people claim that they have a hard time being productive in traditional work places. Because of that, people feel like they hate their work when really, they just need to be in a space where they actually thrive. It's similar to the way that those who fight for social change have voluntourism.
And programs like the one at Instituto Sacatar have extra beckoning power because they are short term. While the quit-your-job-and-travel theme might appeal to many, some people want a degree of change but not an entire transformation. There's the fact that, gasp, many people actually like their line of work. They don't want to quit their job. They just want to find a way to do it better, perhaps with more focus and direction. The way a residence caters to a creative person's lifestyle almost gives it the feel of a camp for artistic adults.
This Brazilian island getaway accepts applications year round. But be prepared to come up with a project that you're willing to give full effort to. If soaking up Brazilian culture in The Bay of Saints doesn't stimulate the imagination to at least make significant headway on a project, you might return to your office to bury it altogether.
Living carefree, he was able to create an extraordinary amount of paintings: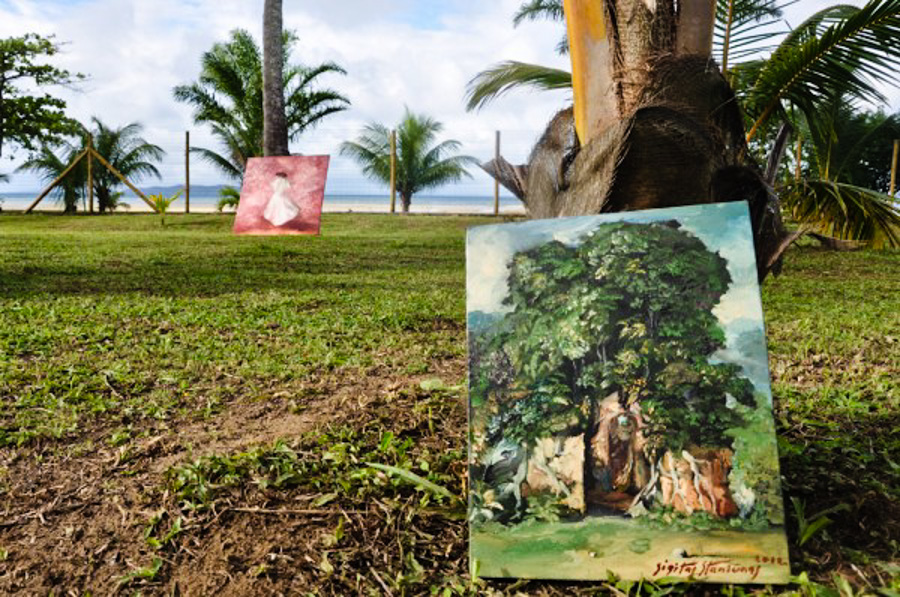 Sources:  sigitasart.com,  sacatar.org,  sigitasart.com