1:

Piss Christ
In 1987, Andres Serrano photographed a small crucifix submerged in a glass of the artist's piss. This piece was the winner of the Southeastern Center for Contemporary Arts "Awards in Visual Arts" Competition. He stated that although his work is not intended to denounce religion, it alludes to the commercializing or cheapening of Catholic icons in contemporary culture
2: Gold Plated Poop
In 2007, an artist named Terence Koh had an installation at the Art Basel that consisted of glass cases containing gold-plated pieces of his own shit. They sold for a total of $500,000.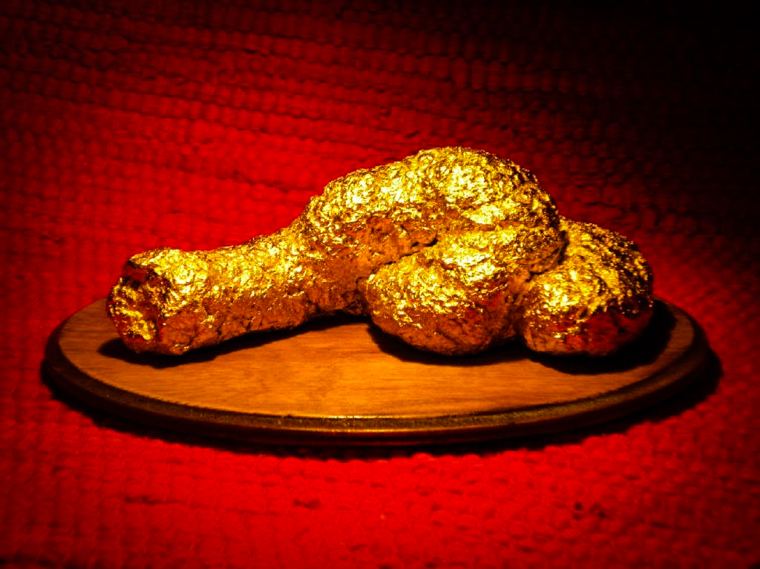 3. Miss Kitty
In 2007, Paolo Schmidlin created a sculpture that depicts Pope Benedict XVI in complete drag with a lustful grin. It was removed from exhibition in Milan due to pressure from various Catholic organizations. Thought the piece to be controversial, it was out stripped by the uproar created by the Catholic Church's attempt to censor the secular art world.
4. You Are What You Read
This piece consisted of a starving dog chained to a wall in a gallery. What is more fucked up, is that only a few feet away, just out of the animal's reach was the title of the work spelled out in dog biscuits tempting the animal. The artist, Guillermo Vargas, received many death threats during the showing. He claimed that this piece was to highlight the hypocrisy of a society that takes no notice of a dog dying in the street, but gets angry when one is being chained to a gallery wall.
5. Myra
This painting of Myra Hindley was created completely out of the handprints of small children. What is so controversial about that you ask? Well Myra Hindley, along with Ian Brady, was responsible for the vicious murder of five children from 1963 to 1965. When it was put out on display at the Royal Academy of Art in 1997, angry members of the public immediately egged it. Some see this as an over reaction stating that this painting is merely conveying the enormity of her crime.
6. Porno Queen
This sculpture of Queen Elizabeth shows her naked torso and head being fondled by a phantom pair of man's hands. If you look in your eye you can tell she is really enjoying it too. Naughty, naughty girl. A photographer covering the event said this piece was "quite obviously the work of a lunatic." If making you want to see the Queen's jubblies makes you crazy, well shit, then lock me up and throw me in a straight jacket.
7. Shark
This 2005 sculpture is a life-size realistic model of former dictator Saddam Hussein floating in a large tank of formaldehyde. In 2006, the artwork was banned in Belgium and Poland due to fears that it would stir up unrest with Muslim populations, especially considering it was released around the time of the famous "Muhammed cartoon" uprisings.
8. Everyone I Have Ever Slept With 1963-1995
Tracey Emin created a camping tent embroidered with the names of every single person that she had slept with. The personal and sexual quality of the piece caused quite a stir, especially when someone spotted the name "grandma." She quickly clarified that not all the sleeping partners were sexual. In 2004, it was destroyed in the famous Momart warehouse fire. The press reacted by mocking it, calling the piece, which sold for £40,000, a piece of "rubbish".
9. Robert Rauschenberg Erased A Drawing By The Worlds Most Famous Artist
In the 1950s, William De Kooning was one of the world's most famous artists. A young Robert Rauschenberg went to Kooning's studio, asked for a drawing, and promptly erased it as an artistic statement. Kooning's biographer called it an act of "Oedipal Murder." I might call it sadistically badass.
10. The Fountain
This piece was created by Marcel Duchamp in 1917, and is simply a urinal repositioned on its side. At the time it made an incredibly radical statement: that art is more or less what we make it. Sometimes it is no more than seeing a familiar object in a new light. Needless to say not everyone agrees, and it has been an intense topic of debate ever since.
Sources: wm.edu,  sfmoma.org,  blogspot.com,  gazeta.pl,  amazonaws.com,  wordpress.com,  productionmyarts.com,  blogspot.com,  photobucket.com,  wikimedia.org