BY: THE PLAID ZEBRA 
On the Llano River in Texas stands a line of houses testament to a 20-year friendship.
Four couples decided that the suburban grind was getting in the way of what matters most in life—friends and family. Although they lived in the same town, they felt being scattered throughout subdivisions and living the daily routine of "business as usual" was becoming a major hindrance in cherishing their life long friendship. They all got together and started talking. The Tiny House movement was giving people of no particular affluence the opportunity to live a wealthy life—that is a life lived on their own terms. So they decided to build "Bestie Row" where they could all grow grey in style.
They sought the help of architect, Matt Garcia to plan their great escape.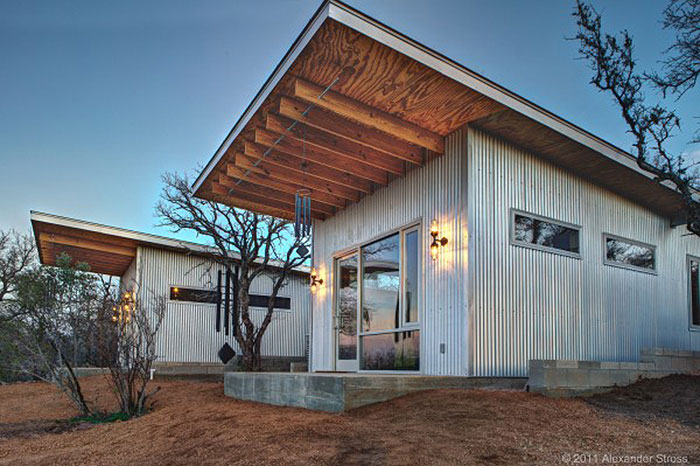 Now they wake up every morning to coffee overlooking the Llano River.

They dubbed their community the "Llano Exit Strategy" as homage to their getaway from modern society laden with stress.

Each couple has a 400 sq. ft home running $40,000.

They built a 1,500 sq. ft community compound so they could cook and party in the middle of nowhere.

They designed the buildings with sustainability in mind.  
They used galvanized metal siding to dramatically reduce the impact of the scorching Texas heat.
 They even have catchment tanks for runoff roof water.  
They realized that the wide open space would be a great place for their children to stretch their imaginations.

They used a little creative space management that's both fashionable and functional.

Imagine waking up to the sun cascading down your face every morning.  
They chose a contemporary design with a rural flavour.

Queue the exodus of best friends to the wilderness.
More Info at: Mattgarciadesign.com