BY: AL DONATO
Sex is an industry. Even if you're not literally buying it, you're paying for ways to make it happen, make it better, or in the case of sex toys, substitute it.
The sleek, brightly-coloured toys sold by erotic retailers are more successful than ever. Forbes reports the adult toy industry could be worth $5 billion to $15 billion, figures that show how greatly monetized your fap session has become. While sex toys do improve the alone time experience, they also homogenize the ways we seek climax. And since they're sold as novelties, manufacturers aren't beholden to health regulations. It's why the plastics, metals, and sometimes glass these toys are made of aren't necessarily safe to stick inside. It doesn't help that they're really goddamn pricey.
Here are some ways you can MacGyver your own orgasm with these sex toys made from household items.
SEE ALSO: 10 of the Strangest Sex Toys You'll Find on Stag Shop Shelves
The Pocket Pussy or, the poor man's Fleshlight
What you'll need: a long can (i.e. one for Pringles or tennis ball container), a latex glove per session.
For this, the insides of your custom orifice can differ.
Minimal effort would be to take two dish sponges, wedge a latex glove between them, and stuff it into the can, with the glove's opening facing up.
The more chemically inclined can mould their own permanent and tailored orifice by mixing cornstarch or potato starch with water to make their own solidified goo. The exact measurements will differ per individual, and there are plenty of tutorials are online, but the gist of it is heating the mixture in the microwave, sticking a candlestick or rule in to form a hole, and then putting that inside your can.
The Oral-B Fixation
What you'll need: an electric toothbrush
Like "personal massagers", this one re-purposes an already vibrating tool with no effort on the individual other than to turn it on and give yourself that minty-fresh feeling downstairs. To reduce chaffing, look for brushes with rubber nubs and soft bristles, or try modifying them with rubber thimbles.
The Fee Fee Bag
What you'll need: A bag and fluid.
Urban Dictionary defines the Fee Fee Bag as a tool invented by convicts. As such, it's pretty much the sex toy of last resort. Fill a bag, a sock or a glove with any kind of cream-based or gelatinous fluid (like lotion, animal fat, or mayonnaise if you're trying to empty your fridge), and go to town. Some substances may be safer than others to stick your genitals in – yogurt, for example, has been known as remedy for yeast infections.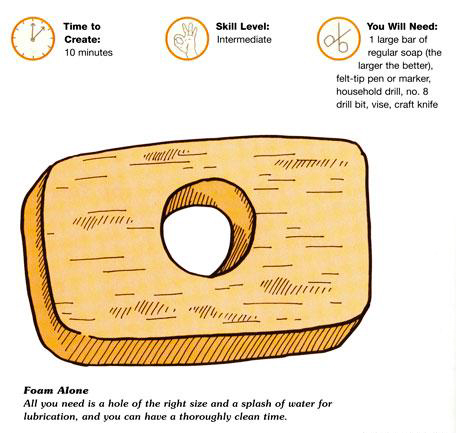 Anything
What's great about cobbling together your own sex toy are the possibilities for customization. The business of feeling good needn't come with a price tag nor restricted to the realm of neon-painted multi-speed novelties.
The blog Build A Vagina reviews the assorted household objects one may feel inclined to stick their dick in. From the warm insides of baguettes to the soft inner linings of pipes, blogger Mr. Fefe bravely ventures into the literal cracks and crevices of appliances and food items. He then rates them on softness, texture, temperature, friction, and other important metrics you'd need to consider before diving in.
"As a young man I didn't get as much of the real thing as I would have liked and now as a married man I definitely don't," Mr. Fefe writes. "I'm sure that as an old man I'll still want that little extra that an artificial vagina can provide."
With the help of bloggers like Mr. Fefe and almighty search engines at your disposal, finding out what other objects people have thrust themselves into (or thrust into them) would be a wise way to explore uncharted territory and prevent taking a trip to the emergency ward.